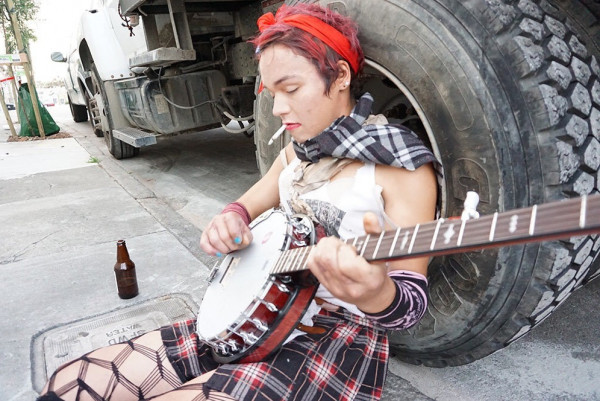 Unfortunately, earlier this week, Sam Sadowski, who released an EP as Closet Fiends on Fat Wreck Chords. Sadowski passed away peacefully while sleeping in Sadowski's apartment in San Francisco. The cause of death is not yet known.
Sadowski was born on May 4, 1994. in 5th or 6th grade, Sam picked up a guitar and without any warning or prep, played at a school assembly to great affect. Sadowski did a few summers of a "school of rock" camp, working on the instrument.
Following that, Sadowski had bouts of homelessness. Scott Sturgeon of Leftover Crack and Fat Mike of Nofx ran into Sadowski during one of Sadowksi's periods of homelessness, which resulted in the Closet Fiends recording.
Sturgeon reflected on meeting Sadowski: "I had met Sadowski at a drop-in center. Sadowksi and a friend told me how much they loved my music. Sadowski's friend, Alex, who's legally blind, recognized my voice from my records and asked if I was who I am, surprisingly. They told me that Sam was a musician and I asked if there was anything that I could hear. Sam's friend let it slip that there was a song on YouTube. I think that Sam was embarrassed about it. But I found it that night and it blew me away. The lyrics, the writing, the crazy chords and above all the voice. Just an amazing performance. I called Mike and came over that night or at he next day to play him the video and I believe it was the next afternoon that we got on our bicycles and searched the tenderloin and found Sam. We brought Sam to the guitar center near the tenderloin. We got Sam to play all of the original songs that Sam could remember in the "acoustic room". It was chilling just how good the performance was. I think we brought Sam straight to the studio that very day."
There will be a memorial for Sam in Austin at a later date. You can see the video Sturgeon showed to Mike, which was recorded while Sam was in high school, below.
Update: Soma snakeoil released a statement:
"Several years ago Sam Sadowski came into our lives and made a huge impact. I was in the height of my addiction, and the height of my denial. Shannon & Sturgeon found this amazing human in their social activist work in the harm reduction/drug users rights realm. They reached out to Mike and within no time Mike & Sturgeon were in the studio with Sam recording an album. Mike, Shannon and Sturgeon biked around SF together to find this special human who's genius was on par with her drug use. Sam was special. She was a trans crust punk who lived on the street in SF and slammed dope straight in her neck to fight the demons in her head. That's just an outward description. The special part was her curiosity, intelligence, feral artistic nature, and truly rare talent. Mike bought her a banjo. I gave her clothes out of my closet. We all fell in love with her and wanted to support her. It was shocking when she opened her mouth and thrust out raw passionate songs that told untamed stories that any drug user could understand. Any human if we're willing to be honest. Everywhere she went she left a trail of mess. Usually in paint. I got her. Sam was a representation of what I would be if I fully let go. I went there with her for a few days in our house in SF. We smoked roxy together, painted and argued. Her neck blood stained my bathroom ceiling. I tried to talk her into getting sober as I self righteously took my suboxone. Then cut up lines of coke. Denial.
When the arguments got too intense I called Sturgeon to come pick her up. Somewhere in the midst of that time they finished the album and I took these photos of Sam for the album cover after doing her makeup. She had a show that Mike got her, I think opening for Subhumans. Shannon was responsible to get her to the event. Shannon said it was the most stressful night of her life. Sam lived in Mike's van for awhile outside the studio. We were trying to help her get her ID and get her on her feet. The van was her home for quite some time and she did some personal assistant work for us to make some cash. Eventually that fell apart and we lost touch. Sometimes I would hear stories about her. She was housed in an SRO near the end. Sam died. We don't know all the specifics yet but there are speculations about OD among other things that feel heavy to hold considering how much she was loved & how the people who care all are Narcan/harm reduction people. I'm not going to use this moment to preach about being safe with drug use. We know. I will say this-our street community needs to be seen. Some of our brightest musicians, artists, and writers live in the shadows and don't have any followers on Instagram. You don't know who is standing at an overpass flying a sign. I'm honored to have known Sam Sadowski.
Soma Snakeoil "
Update Scott Sturgeon also issued a statement:
"I was always quite amazed with Sams talent. I am something of a "music nerd" & I pride myself on my eclectic tastes & music knowledge & I quite literally have never heard anybody with the particular combination of musical talents that Sam possessed. Amazing lyrics, musical sensibility, weird but beautiful chords, an intensely dynamic & soulful voice & the knack for tying it all together into 3-4 minute acoustic pop songs about a still completely misunderstood & all too often persecuted life of marginalization that most people will never understand & that all applies before including Sams gender fluidity & identity. Sams songs , whether under their name or under the also solo moniker of "Closet Fiends", spoke to me on a level far beyond the novelty that I could sometimes see others appreciating them as. I think that, for better or worse, Sam had a voice quite far ahead of our time & I know that there are a growing number of people in the world that can relate thoroughly to what they sang about.
I would like to do my best to keep Sam's voice alive & even immortal if possible, for the benefit of those out there, alive in these chaotic & confusing times & for future romantics & music lovers that can really relate & empathize to this tortured & cruel world. For, I am one of those people after all.
Strg "